The Indian Food Safety and Standard Authority (FSSAI) has extended the grace period for Food Business Operators (FBOs) until June 30, 2020, to apply for the registration or license renewal that runs from March 22, 2020, to expired or expired on May 31, 2020, due to the COVID-19 pandemic.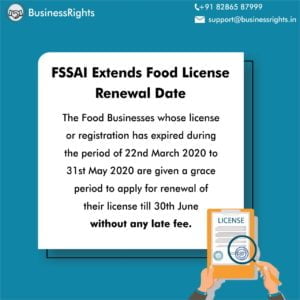 FSSAI's decision found that FBOs, that generally use govt. help desks, govt. agencies, or advisors to submit their applications, are unable to do so because COVID19 movement restrictions exist across the country even for doing your FSSAI license renewal or FSSAI registrations.
The matter was examined by the FSSAI and the following was decided:
The FBOs whose license/registration expired/expires between March 22, 2020, and May 31, 2020, have a grace period to apply for an extension of their license/registration until June 30, 2020, without any late fee. In the meantime, the FSSAI licenses/registrations are considered valid.
Given the interruption of Internet services in the UTs of Jammu and Kashmir and Ladakh, the FSSAI (order number 15 (6) 2017 / FLRS / RCD / FSSAI from October 3, 2019, allowed FBOs whose FSSAI license/registration has expired since August 1 expired/expires in 2019 until internet services are restored to continue their groceries with their existing license/registration number without a late fee until further orders.
However, the FSSAI has also decided to revoke its earlier decision to allow FBOs in J&K and Ladakh to continue operations in the wake of no Internet services in the region. The order in this regard was given last year in October saying that until the Internet services resume, the FBOs were allowed to operate if their licenses or registration were expired by August 2019.
Now that the Internet services have resumed, thus the said order ceases to be in effect, says the apex food regulator. However, since there is a lockdown across pan-India, the FBOs of J&K and Ladakh were also given the same grace period till June 30 to apply for their license renewal.
This is done with the approval of the responsible authority.
Link: https://foodlicensing.fssai.gov.in/PDF/renewal_extension_order_updated.pdf