A public limited company under the Company Act 2013 is termed as a corporation and offers shares to the general public. The shares can be purchased by anyone, either privately through an IPO or stock exchange transactions.
To register a corporation, the company must have at least 3 directors, 7 shareholders and a maximum of 50 directors. Although the number of members is unlimited, it is formed by the association of individuals who voluntarily have a minimum paid-up capital of 5 lakh rupees. A joint-stock company offers all the advantages of a limited liability company and the possibility of having any number of members, simplifying the transfer of shareholdings and creating more transparency. The company may invite the public to subscribe for shares and bonds. The term Public Limited must be incorporated in its name at the time of its establishment.
Public Limited Company Registration
Business Name Approval
3 DIN / 3 DSC
Incorporation Certificate
MOA & AOA
PAN & TAN
Dedicate Relationship Manager for all support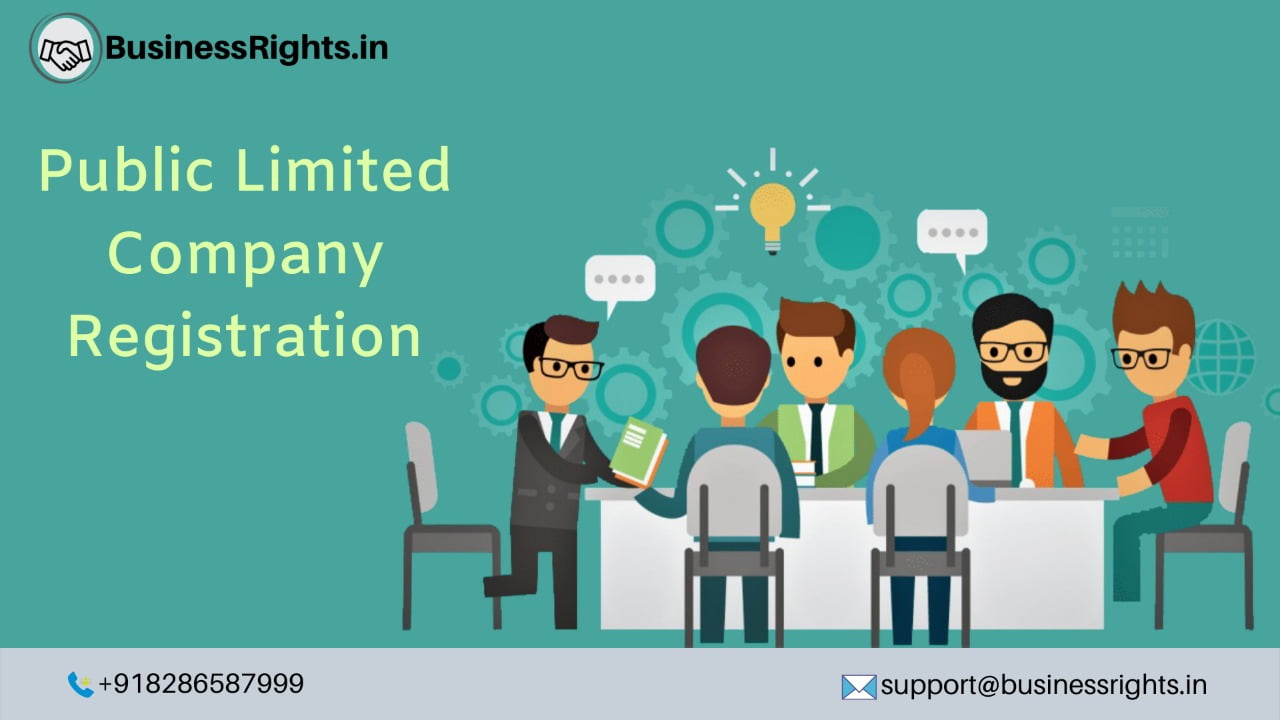 Choose Public Limited because
Public companies are more preferred when issuing a loan.
By the following compliance, a stock corporation can list its shares on the stock exchange.
Shareholders can easily transfer their shares.
Limits the liabilities of its partners.
Characteristics of the corporation
Directors
Under the provisions of the Companies Act 2013, at least 3 directors are required to set up a corporation, and the maximum number of directors is not limited.
Limited liability
The liability of every shareholder is limited. In simple terms, a stock corporation shareholder is not personally responsible for any company losses or debts that are greater than the amount they invest. in contrast to partnerships and sole proprietorships, where partners and business owners are jointly and severally liable for the company's debts. However, this characteristic of a public limited company does not offer shareholders immunity. The shareholders are held responsible for their illegal actions.
Paid-up capital
A joint-stock company must have a paid-up minimum capital of Rs 5 lakh or a higher amount as required by law.
Brochure
A prospectus is a comprehensive description of the company's business, which is published by a public limited company for the public, and there is a legal obligation for public limited companies to issue a prospectus. However, there are no such provisions for limited liability companies. This is because limited liability companies cannot invite the public to subscribe to their shares.
Last name
Under the Companies Act 2013, all public companies are required to include the word "Limited" after their name.
Advantages of public companies
Establishing a public company offers the following advantages:
More capital
Shares are offered to the general public. Anyone can invest in a public company. Improves the company's capital.
More attention
Listing on a stock exchange ensures that mutual funds, hedge funds, and other traders are aware of the company's business. This can lead to better business opportunities for the corporation.
Spread risk
Since the shares are sold to the general public, the unsystematic risk of the market is distributed.
Opportunities for growth and expansion
Because of the lower risk, there is a perfect opportunity to expand and expand the business by investing in new projects from the money raised through stocks.
The main differences between a limited liability company and a limited liability company are:
A stock corporation is a company listed on a recognized stock exchange whose shares are publicly traded. On the other hand, a limited liability company is neither listed nor traded on the stock exchange. It is only privately owned by its members.
The minimum number of members required to set up a corporation is seven. In contrast, Private Limited can be started with at least two members.
In the case of a stock corporation, the convening of an ordinary general meeting is mandatory. There is no such constraint in a private company.
The issuance of a prospectus or a declaration is mandatory for a stock corporation. However, this is not the case with a private company.
The corporation needs a certificate of the beginning after the foundation to be able to start operating. In contrast, a private company can start business immediately after its creation.
The transferability of shares is fully restricted to limited liability companies. While the shareholders of a stock corporation can freely transfer their shares.
Because there are a limited number of people and fewer restrictions, the scope of a limited liability company is limited. On the contrary, the size of a corporation is large. This is because the company's owners can raise capital from the public and may have to comply with legal restrictions.
A stock corporation is exposed to a greater regulatory burden. This is because a large amount of information needs to be made available to the public who are shareholders or potential shareholders. A lot of money has to be invested to produce reports and disclosures that comply with SEBI regulations.
A signed written resolution is obtained by holding general meetings of a limited liability company.
While public companies must appoint a company secretary, private companies can only do so at their will.
In a nutshell:
What is included in our corporation registration package?
DPIN for 3 directors
Digital signature for 3 directors
Name search & approval
MOA / AOA
ROC registration fees
Company Card Pan
Public limited company registration procedures
Fill out our simple form
You must enter details in our simple online questionnaire and submit documents.
Get DSC and DIN. from us
After document submission, we will provide you with DIN and DSC – 12 WORKING DAYS
Review and name approval
The data you provide will be checked and we will apply for the name approval – 2 WORKING DAYS
Filing of documents
We create all the necessary documents and submit them to ROC on your behalf – 20-25 WORKING DAYS
Your work is done
As soon as your company is registered, we will send you all the documents by courier.
Documents required for public limited company registration
Copy of the PAN Card of Directors
Passport photo of directors
Copy of the Aadhaar card/voter ID
Copy of the rental agreement (if rental property)
Electricity / Water bill (Business Place)
Copy of ownership papers (if owned)
Landlord NOC (Format will be provided)
Frequently Asked Questions
What are the requirements to become a director?
Any member wishing to be the director should be at least 18 years old. Anyone can become a member of the corporation, including foreigners / NRIs.
Do I have to be present personally to set up a public company?
No, you don't have to be in our office or appear in an office to register a public company. All documents can be scanned and emailed to our office. Some documents also need to be sent to our office.
Once I pay for incorporation is there any other payments to be made before I receive the Incorporation Certificate?
There is absolutely no other payment. We will send you an all-inclusive bill with no hidden costs.
Are there any statuary compliances for the corporation?
A public limited company must hold a board meeting at least every 3 months. In addition to the board meetings, the company must hold a general meeting at least once a year.
Can an NRI / foreigner become the director of the company?
Yes, an NRI or a foreign citizen can be a director of a corporation upon receipt of the director's identification number. However, at least one director must be based in India.
Want to know about Private Limited Company?