Nowadays, every single thing involves the presence of a digital platform. This platform proves to be helpful for many commodities and companies to rank in the search engines. But you should never completely put your blind trust & destiny in some other person's hands without doing your research. With so many old companies now starting their online marketing voyage, it may be possible that your digital marketing service provider might not tell you certain things.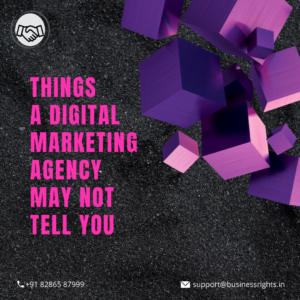 1. You cannot rely completely on Search Engine Results:
SEO marketing is indeed very effective, but one cannot only rely on its results i.e. the results cannot be guaranteed every time. None of the honest agencies would guarantee that your brand would be on the 1st page of Google for a competitive keyword.
2. The most important thing today is Mobile SEO:
It is a known fact today that the use of mobile devices is increasing rapidly. You need to develop mobile-friendly sites that would work equally well in all systems. The mobile users that are not addressed by SEO services can provide your brand with many potential customers.
3. Google Authorship is no more counted:
You must have heard about internet rumors such as "SEO is declining" which turns out to be a false statement. Google has announced that Google authorship is no longer counted towards ranking. In case, your digital marketing company is still depended on this then they are outmoded.
4. OK is not OK:
The attempts taken for advertisement, irrespective of the medium should have a link to all of your brand guidelines. Never upload or countersign impoverished poorly written articles or contents that do not match with your brand. Never think that it's Ok to upload such poor quality advertisements because it's a digital platform. Therefore "OK is not OK". Such a thing is applicable to even "user-generated content"- produced by some over-keen clients. Every sort of marketing presentation, irrespective of medium, shows the way your clients see your brand and the effort taken to build different business assets.
5. Compute the things that matter:
Vanity metrics are the number of social media followers or likes and other sorts of urged analytics that look great but add no merits to your brand goals. You need to understand the way these metrics reflect your brand performance simultaneously with your brand goals. To keep things measurable, you can create two slabs. Firstly Operational Metrics such as CPCV will help you to keep an eye on performance and growth. Second, Business metrics like CPA to reflect the performance versus brand goals. Try to bespeak the business value of your marketing cracks on the digital medium by sharing the way business procedures are updated to emulate with consumer behavior.
6. Local Search is important for some businesses:
Local search should be the priority in case a business gets most of its customers locally. The conventional Search Engine Optimization strategies that pivot on national or even global ranking are not that helpful to many businesses.
7. It is better to have a lot of links:
The key to high ranking via getting thousands of black links to your site are long gone. The reputable agencies know about this, but some digital marketing experts will try to impress their clients by telling them the number of black links they can produce. Therefore, the attention should be on the standard rather than the number of links generated.
8. Cookies do not buy, but people do:
The Digital Marketing Agency would spend a lot of time telling their clients about re-targeting cookie pool, third party data, device IDs, it is important to remember that all marketing efforts are focused on real people. Cookies do not buy, but real people buy.
9. Lie, percentage, and statistics:
It has been claimed through many digital studies that massive performance improvements, a typical headline may read "200% improvement" but when you deep- dive, you may find that it refers to TRs improving from 0.3% to 0.6% which means six in one thousand clicked on the banner- a massive increase from 3 in a one thousand. You must be careful of such things while opting for digital marketing solutions.
10. To succeed, you need more than SEO:
It is a dangerous myth that ranking in the search engines can create a road for your business to success. It is important to focus on putting a great product or render services and develop a friendly relationship with your clients. For a successful internet marketing plan, content marketing and social media management is equally important.
11. Having too many pages does not mean a High Ranking:
It might be possible that some SEO agencies try to talk and impress you by telling the number of indexed pages they can generate for your brand. In the present SEO climate, this itself would not guarantee good results. Google is now responsible for the quality and relevance of pages and not the number of pages your website has.
12. Throwing tech to every problem is not the only solution:
Having an advanced technology like Machine Learning is not the only solution in case of a problem. It is useful to keep asking the question KKH i.e. Karna kya hai. Simple solutions can also work wonders in case of digital marketing solutions as compared to complex high end technology.
13. Nofollow Links have value:
They help you to build traffic and potentially get other do-follow links. Google might see as a red flag that you are using aggressive statistics in case your site only has do-follow links.
14. Be careful of Shree 420 and be an open-minded skeptic:
Ad fraud is rampant. Therefore, you need to keep asking the right questions from time to time and take measures to minimize your loss to the best extent possible. And lastly, be an open-minded skeptic. Focus on the exquisite balance between two conflicting needs; have a great openness to new ideas.
Digital Marketing for small businesses have become essential during the times of Corona pandemic, as people are opting for online services for their daily needs. The country has seen a great shift in booming of online service providers from small grocery stores to big companies.