Now with the growth of food businesses on the online platform, it becomes essential for the restaurants whether big or small to tie-up with the online food ordering aggregators such as "Swiggy" and "Zomato". Here in this piece of article, we will be taking you through the steps and procedures involved in Swiggy restaurant listing & listing on Zomato.
We at Businessright.in will do everything required for Swiggy restaurant listing or listing on Zomato so that you can focus on your business.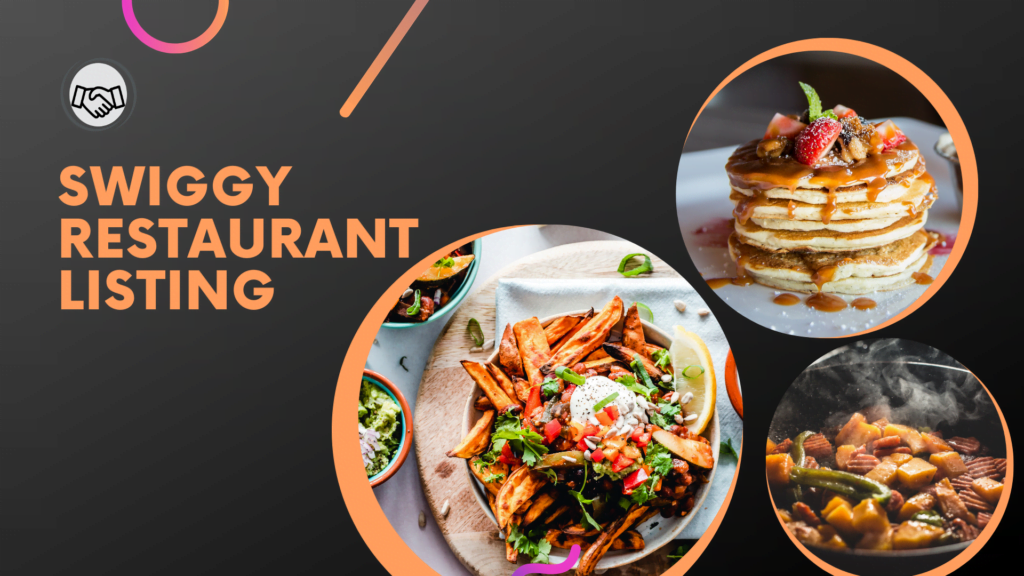 Growth of swiggy and Zomato:
After certain research work, it has been recorded that the online food service media is projected to grow by a compounded annual growth rate of 9.1℅ and that results in a market value of USD 11,569 million by the year of 2023. Swiggy and Zomato in India have become the synonyms of online food service. The capital invested in these online food companies is now in billions.
The success of Swiggy has attracted a lot of funding. Therefore, Swiggy has raised more than a billion in a week and is the highest valued food delivery business in the country.
Listing on Swiggy:
To list your restaurant on Swiggy you need to follow all the steps enlisted below:
For registration on Swiggy, you need to have a permanent address of your restaurant with all the legal documents to abet it.
Go to the website

Swiggy.com

and click on the 'Partner with us 'link.
Then you need to go filling on all the essential details i.e. the name of your restaurant, pin code, your designation, and your mobile number. Continue by clicking on submit.
Go ahead by filling up the form and uploading the required documents. For this, you need to have the following information like the number of outlets, website listing link, type of cuisine, and the primary area of the restaurant and soft copies of the FSSAI license, GST (Goods and Services Tax) number/PAN details and your shop license. Besides you also need to have the photographs of your restaurant, kitchen, dining, and many more (in jpeg format).
Then you need to keep the hard copies of cancelled cheque or passbook, the image of your menu and take away bill ready.
A representative from Swiggy would call you for the partnership agreement.
Finally, you will get a confirmation notification via email and a phone call telling, that you have been successfully registered on Swiggy and can start receiving orders.
Swiggy Vendor Registration:
Firstly, you need to contact swiggy. The restaurant needs to leave an inquiry on the Swiggy Webpage to become a vendor with Swiggy.
Then connect with a Sales Representative after which a sales representative will certainly get in touch.
Negotiate with the sales representative.
The sales representative, as well as the applicant, will have to accept certain terms and conditions.
Document collection is the next important procedure.
The restaurant is now confirmed as Swiggy registered vendor.
Listing on Zomato:
To get yourself registered on Zomato you first need to go to the website zomato.com and click on the "Add a restaurant" button at the bottom of the page.
Then you need to fill all the essential details i.e. the name of your restaurant, City, contact number, your credentials and the opening status of your restaurant. Now click on Add restaurant.
Goaheadbyfillinguptheformanduploadingtherequireddocuments.Forthis, you need the address and the google maps location of your restaurant. Characteristics of your restaurant such as:
Alcohol/Non-Alcohol
Seating
Mode of payments
Type of Cuisine
Breakfast, Lunch and Dinner, Cafe, Nightlife
Other details like:
Contact details
Restaurant official email ID
Operational timings
Restaurant website link
Now the verification procedure of your restaurant starts. Post verification, your page will go Live on Zomato.
A Zomato Sales Representative might call you to cross your details.
You need to keep the soft and hard copies of the following documents i.e. GST numbers, shop license, PAN details and FSSAI license.
Never out any false information on Zomato because they cross-check your data before it goes online.
After going through the procedures of listing your restaurant on any of the online food delivery sites, you can understand the amount of time and work it will take. After all we at Businessright.in will do everything required for Swiggy restaurant listing or listing on Zomato so that you can focus on your business. You just need to provide us with all the legal documents and certificates and the rest will be taken care of by the expert team of our company.
Click here for Swiggy registration | Zomato listing